STEP ONE: A 10-minute phone chat where we talk about what you would like to achieve from your portrait session and get you all booked in.
STEP TWO: A Pre-Consultation in person at your home. Here we plan for your photo session. Decide on locations & consider how you will enjoy your final por­traits. I will bring a range of samples to this appointment so you can see the beautiful final product options firsthand. 
STEP THREE: The Photo Session. A relaxed and fun session at a location that is meaningful to your family. 
STEP FOUR: A personalised Ordering Appointment where you can view your beautiful images and select your favourites. 
STEP FIVE: 4-6 weeks after your session your final art works will be available for collection. You can now enjoy your beautiful portraits for years to come!
Made with exquisite fine art paper, these exceptional prints bring your photograph to life. Framed to the highest standard. Timeless.
Stunning canvas prints featuring gallery made materials. Sealed to protect against sun and moisture. Treasured forever.

A superb print mounted on a raw dark-edged timber panel. These 'WOW' factor Wooden Prints will be a statement piece in your home.
Wall Art from $950
This stunning collection tells the story of your beautiful family. Choose from either four images or 9 images all within one beautiful frame or canvas.
A remarkable collection of five canvases telling the story of your precious family. This collection has 'WOW' factor ++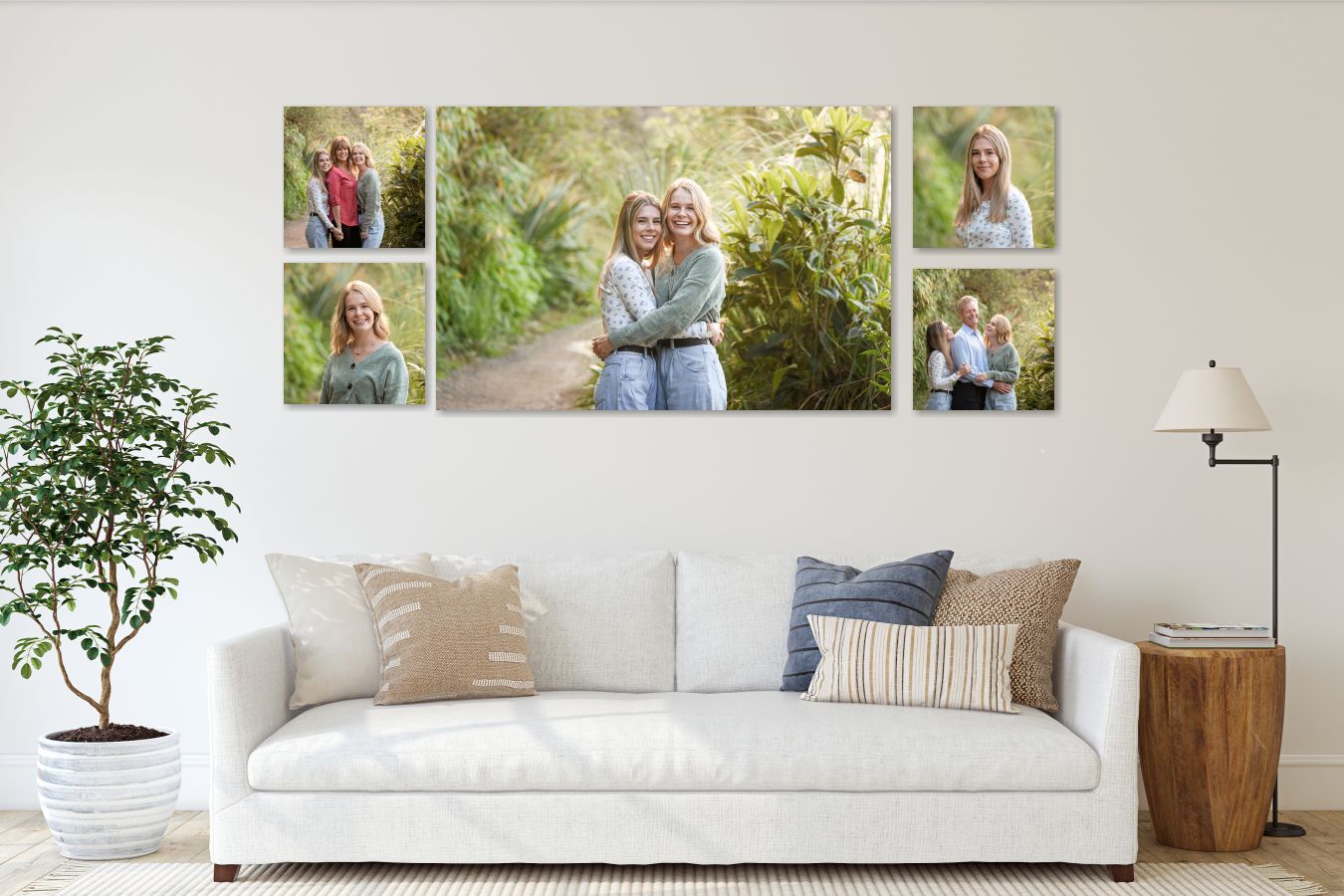 The Generation collection is timeless and beautiful. Three canvas pieces, these can be displayed either horizontally or vertically in your home.
Collections from $2100
These luxurious flush mount albums are the creme de la creme of albums. Featuring a super strength core, rigid silver halide pages (that will always retain their shape), a protective coating that guards against spills, completed with a stunning lustre finish. These albums are a priceless family investment that will be cherished for generations.
Heirloom Albums from $800.
Stunning wooden presentation box finished with the finest materials and highest craftsmanship. Includes silver polished hinging, black suede linings and an easel to display your prints. Includes 10 matted 8 x 12″ prints
Stylish presentation box including 10 beautiful 8 x 12″ fine art matted prints.
6 x (8 x 12″) fine art matted prints
Groups of fine art 8 x 12″ matted prints from $950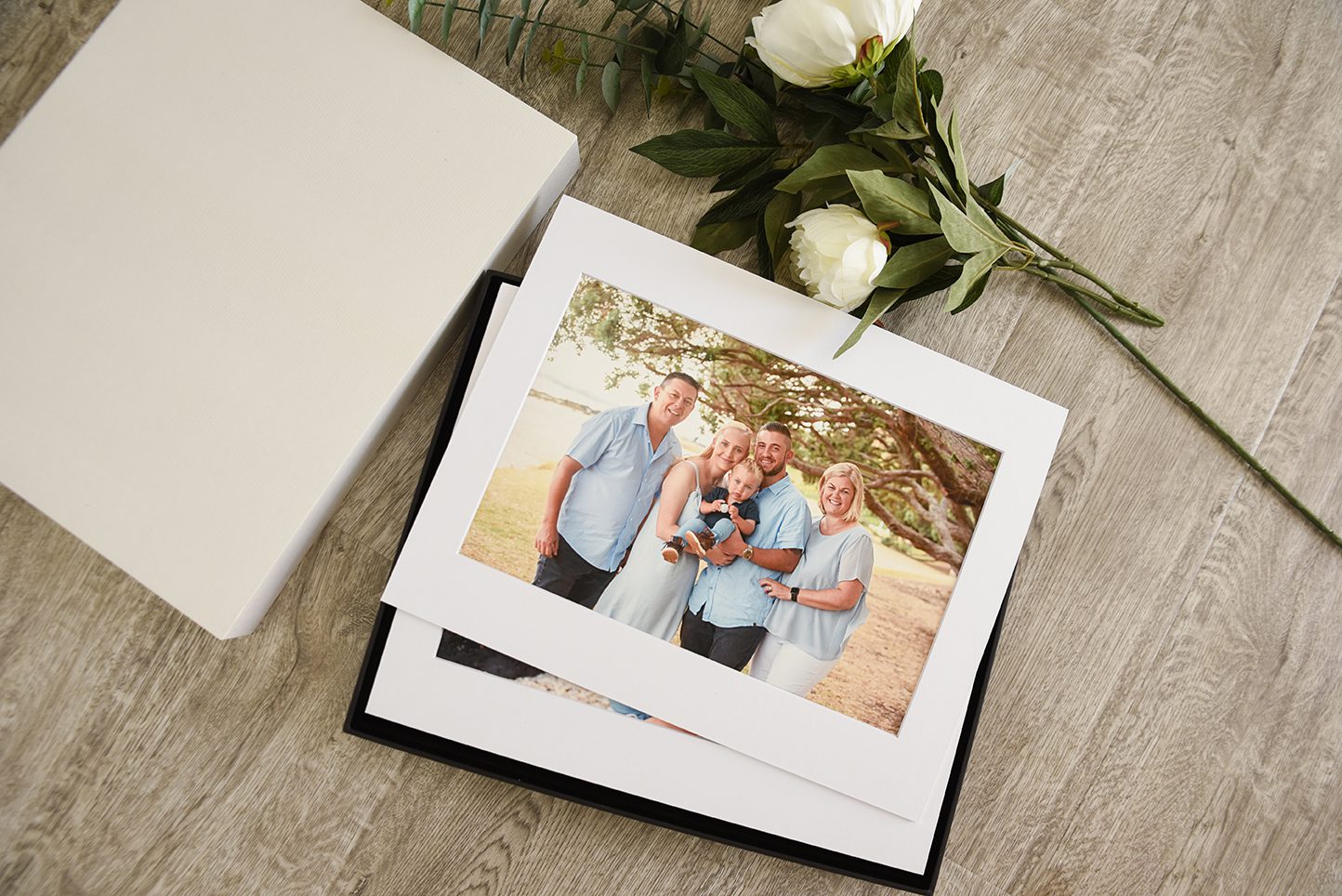 Suitable for desktops and bedside tables. These stunning prints are available as add on's to wall art or album purchases .
Individual 8 x 12″ = $190
Individual 5 x 7″ = $180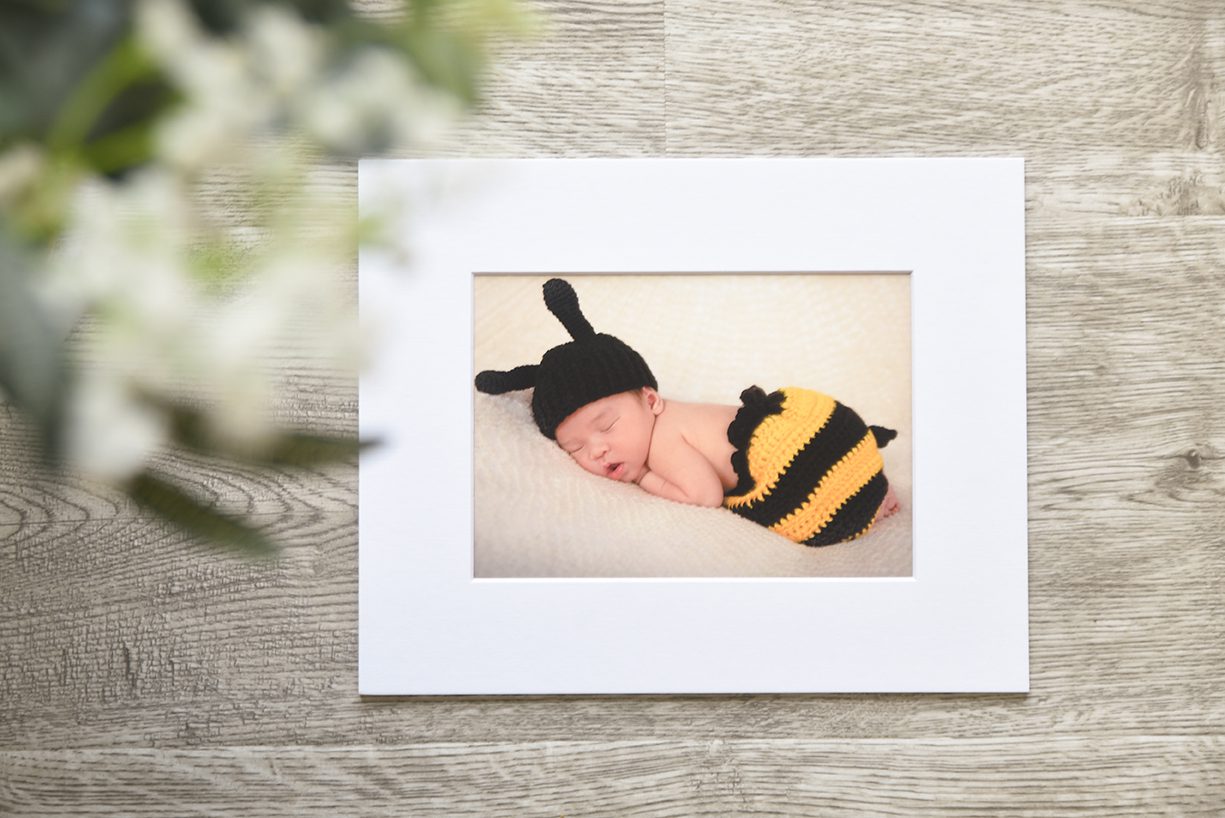 Wall Art, Heirloom Albums and Story Boxes all come with matching digital files. Small mounted prints do not come with matching digital files. 
"Our family have just received the most beautiful family portraits I have ever seen. Lisa's professionalism is second to none from the consultation to get to know our family on a personal level and being so patient to capture the most amazing shots of my 3 and 1 year old active boys. Lisa you are a real trooper!!! The canvas pictures are of the highest quality and we could not fault anything. You have made this such an enjoyable experience and captured memories we can cherish forever. I would highly recommend your business to future clients who want to capture memories to love and enjoy. I can't wait to do it all again in a few years' time. Thanks again Lisa."
"Lisa makes the entire process super easy. Not only is she a talented photographer her desire to capture the look you are wanting is paramount to her. With her amazing software the selection process is made easier, seeing the portrait on your wall before you select. We can't speak highly enough of her services and our gorgeous portraits speak for themselves. Thanks Lisa."
"Lisa created some wonderful family photos for us to treasure in years to come. She provides an extensive service by visiting your home before the photo shoot and planning where you might locate the photos within your home and what colours would suit your decor before deciding on a location. We are delighted with our photos and have already had friends and family telling us how great they look. I would highly recommend her services to anyone wanting quality photos taken. Thanks again Lisa."
"Lisa Monk is an incredible photographer! From the moment I spoke to Lisa about taking pictures of my family she was very professional which continued all the way to delivery of her work beautifully wrapped. I was astounded by her passion for her craft. The pictures look amazing, because Lisa helped us feel safe and relaxed to just be ourselves. Lisa captured the best of us, that's for sure. We often stare at the picture on our wall and visitors comment on it being a real piece of art - it's very good, almost 3D the quality is of such a high finish. Go for Lisa Monk Photography❤"
"We've just had our viewing at Lisa's studio. Not only does Lisa have awesome technologies to help you visualise the prints in your home but she also gives excellent professional advice on colours, framing and edits. She also took the time to get to know our family so she could tell our story through the prints with beautiful results. I would highly recommend Lisa Monk Photography."
"Wow!!!! Thank you so much for all your wonderful patience and effort with our family photo session, Lisa. Your pre consultation session in particular I found so useful and you easily made us all feel at ease on the day of the family photo shoot. You were spot on with the selection of our backdrop and of course the final photographs we all loved. We would highly recommend Lisa Monk to any family looking to capture some very special moments to treasure."
Cockle Bay
Auckland, New Zealand